The partnership between the Born Free Foundation and Land Rover goes back to 2002, when the BFF became one of the brand's global sponsorship partners. Land Rover South Africa has supported the organisation's local programme with a Defender for over a decade.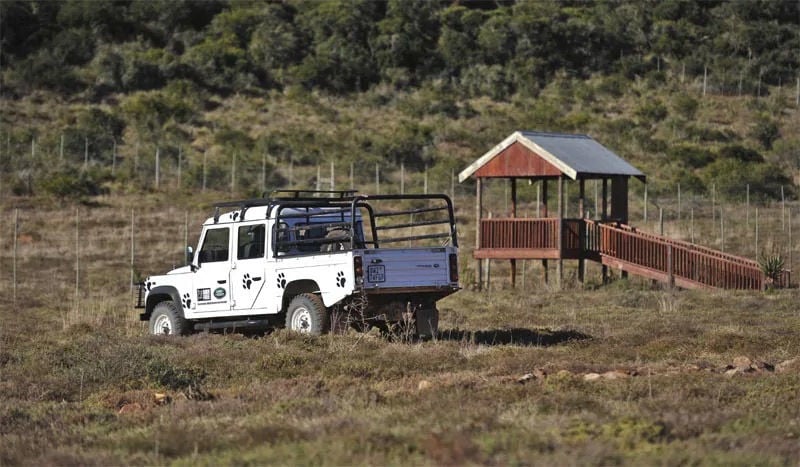 Currently, a Defender 130 Double Cab is in use at the Born Free Education and Animal Rescue Centre at the Shamwari Game Reserve, in the Eastern Cape. This vehicle provides support to the organisation's Big Cat Campaign, Shamwari being a sanctuary that cares for big cats rescued from around the world. The centre also has educational facilities to promote awareness and conservation of wild animals in their natural habitat.

Globally, Land Rover has taken a leading role in working with the world's top humanitarian and conservation organisations. The brand has an unwavering focus on corporate responsibility, environmental awareness and sustainability.

The Defender assists Born Free's endeavours to provide a safe haven for rescued big cats from around the world. The Foundation also educates people to protect wild animals and natural resources for future generations.

In 2013, Land Rover increased their commitment to The Born Free Foundation by confirming it as their primary global conservation partner, extending and increasing their support for a further five years.

The Defender 130 Double Cab is used for all aspects of the Foundation's activities including sourcing food for the 13 hungry cats at the facility to carrying water, towing a heavy trailer, and travelling between the two sanctuaries.

By virtue of the tough conditions in which it operates, and the fact that it is used every day, the vehicle needs to be both rugged and dependable. In addition, when it's not deployed for its regular tasks, it is roped in to ferry VIP guests, or used for various community projects in the surrounding region.

Members of the South African Born Free Foundation have also undergone 4x4 driver training through Land Rover Experience. The goal of the Land Rover Experience Training Centre is to equip Land Rover owners with the confidence needed to enable them to gain the maximum enjoyment from their Land Rover and to fully appreciate their vehicle's capabilities in a responsible and environmentally friendly manner.

The training has made BFF staff more aware and appreciative of the vehicle's all-round abilities, not to mention their own abilities in a wide range of driving situations. This enables them to use the Defender more efficiently and effectively.